Description
The bewitching voice of the beautiful Shahrazād tells stories that take shape before our eyes, and we might even touch them if only the exploits of jealous sultans and magical creatures of lotus flowers and princesses did not enrapture us. This voice speaks of India and Japan, flies over Tibetan monasteries and the squares of Islamabad, and takes us on the pirate ships of Malaysia and into the rooms of the Shah of Persia.
It is a dream or maybe not; they are experiences of previous lives that echo from our innermost past; we are what we were in other times and another where, which we have not forgotten because their scent has stayed with us.
Rêve Oriental is a timeless and aimless journey to the Orient, an olfactory spell intoxicating with scents we have known forever. It has a resinous and floral heart, typically Oriental, that envelops and enraptures while spicy, sweet, and floral notes stand out, and contrast between wood and leather is generated at the base, a warm, animalistic scent, like an Asian moonlit night.
Rêve Oriental means Oriental dream in French: it is a vivid, all but elusive dream that speaks to the most intimate and private part of our souls.
Olfactory notes
Primary notes: Saffron, Rose, Honey, Labdanum
Secondary notes: Amber, Patchouli, Sandalwood
Tertiary notes: Leather, Cedarwood, Vanilla
Primary notes
The top notes are woody-spicy, sweet and floral
Saffron
A delicate flower, a prized spice, and a superb fragrance: saffron has degrees of solemn nobility that have been recognized since ancient times when warm and sensual essences for queens and sovereigns were already created from this golden powder.
Rose
The queen of flowers, as beautiful as it is fragile and deciduous, pervades the air and seduces the sense of smell with its delicate and composite hues. That of the rose is a multifaceted floral fragrance, with the different combinations enhancing cooler or warmer notes in an undertone of sweetness.
Honey
Sweetness-made fragrance. Honey is distinguished by its sweet and pure olfactory notes, a direct expression of nature's eternal workings, which bind the woody component of the fragrance in a warm and velvety embrace.
Labdanum
Labdanum is woody like the plant from which it comes, a shrub of the Mediterranean maquis, and sweet like the herbs used for liqueurs: from labdanum, a natural resin that emanates from shrubs, an essence rich in honeyed, amber, and animal notes is obtained.
Secondary notes
The heart is resinous-floral, warm, and enveloping. Typically Oriental.
Amber
A fragrant caress to all the senses: this is how we could describe the fragrance of amber, which with its balsamic scents, envelops the sense of smell and conquers the mind. The amber notes, exceptionally in the middle position, bring elegance and sensuality.
Patchouli
Used as a natural fixative in perfumes like amber, patchouli is rich in olfactory virtues: musky, Oriental notes that hark back to exotic imagery, but also the more intimate and aphrodisiac side of patchouli in bloom.
Sandalwood
Woody and resinous, the essence of sandalwood harks back to the world where it grows, from India to Sri Lanka, and where it is widely used as an incense and cosmetic. It exudes a lingering and intense fragrance that is enveloping and purifying.
Tertiary notes
The base is woody, dry and secure. Leather notes intertwine with those of wood, creating warm contrasts. Pleasing vanilla undertones.
Leather
The fragrance of leather in its softest version, without processing or treatment, offers sweet and clear notes that give sensations of softness and lightness. A light and delicate essence intended to meet with woody scents in a warm and playful counterpoint.
Cedarwood
The woody soul of this fragrance emanates from the cedar bark, like a skin releasing its olfactory imprinting. The woody component of this fragrance is recognizable for its dry and wild character, with a nuanced animalistic connotation.
Vanilla
Can essence be so peculiar that it never goes unnoticed? Yes, if we are talking about vanilla, an extract from the pods of a particular variety of orchids, as precious as it is lovable: sweet, tender, and comforting, but with a mysterious side that fascinates and intrigues.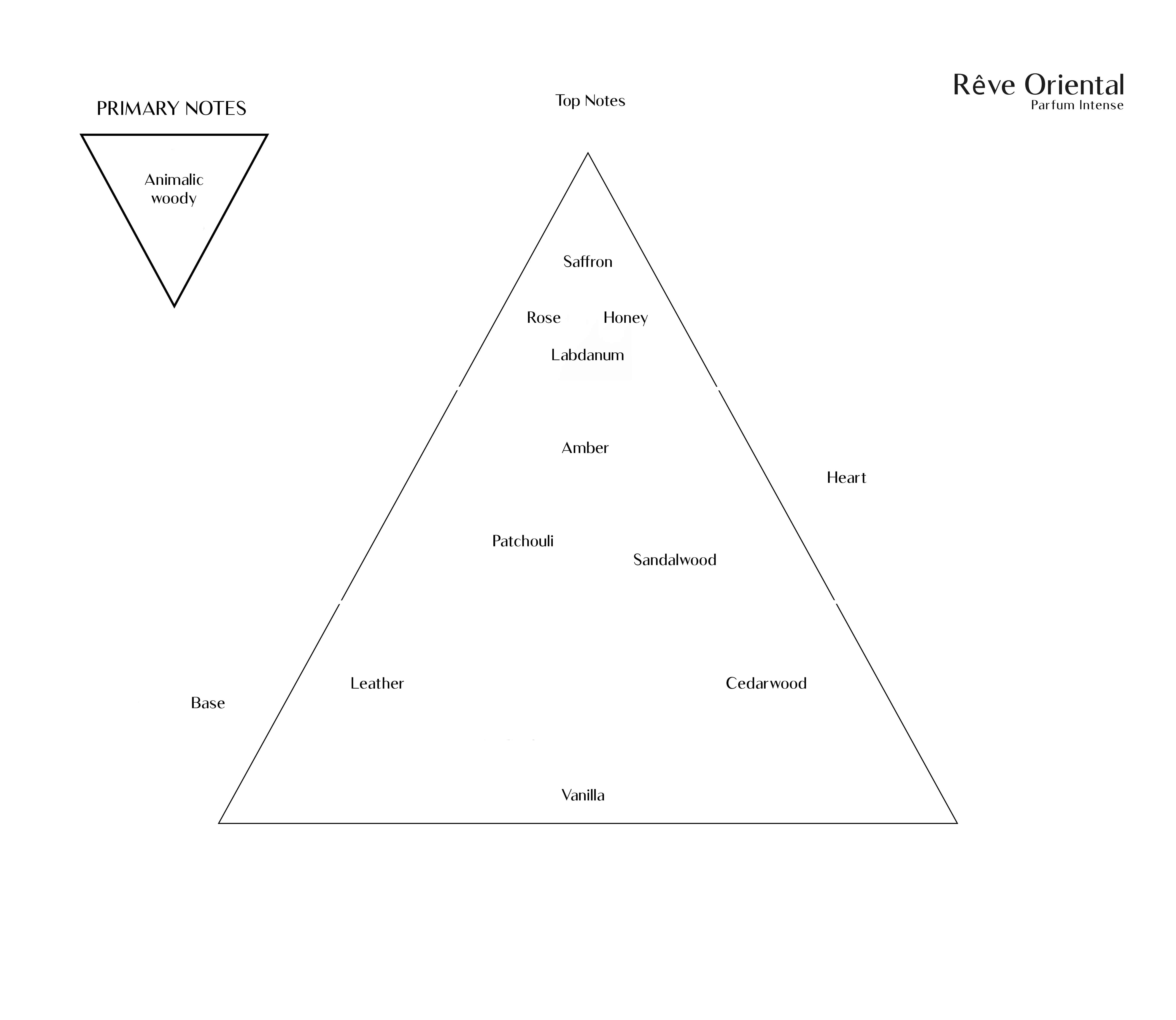 Alcohol Denat., Parfum, Acqua, Hydrolized Silk, Coumarin, Citronellol, Limonene, Linalool, Alpha-Isomethyl Ionone, Benzyl Alcohol, Geraniol.