Description
Curved silhouettes, bent over the boundless tobacco plantations of Java Island, sway slowly to the rhythm of their work. They are people, sons and daughters of farmers like themselves, who have been plucking the earth's most precious fruit among the lushly growing plants since the dawn of time. Their silhouettes extend as far as the eye can see in the verdant scrub that tints the volcano's brown lava rock. They are enveloped in the damp morning mist that, dotted with temples and remote villages, takes on the appearance of ceremonial incense, consecrating an eternal and ancestral rite.
Java Oud is a totalizing experience of sacredness and nature capable of transcending the immanent dimension to guide soul and body through a path of sensory purification. The protagonist of the fragrance's middle notes is a distinct red tobacco note, unique in the world, which stands out against the resinous notes of oud wood and the aromatic scents of floral elements.
The name Java Oud is a precise reference to the island of Java and its tobacco plantations, but also the highly precious fragrant resin native to these latitudes: realities where fragrant impressions open the door to the heavenly dimension.
Olfactory notes
Primary notes: Incense, Saffron, Nutmeg, Bergamot
Secondary notes: Jasmine, Rose, Oud, Tobacco
Tertiary notes: Vetiver, Guaiac wood, Sandalwood, Amber
Primary notes
This fragrance features resinous and spicy top notes introduced by a citrusy hint of bergamot.
Incense
Smoke sacred to deities releases a fragrance that rises from earth to heaven and touches the deepest chords of the human soul. Mystical, pungent, heavenly, it has an extraordinary evocative power: incense is how the divine manifests itself to the sense of smell.
Saffron
Another refined and precious essence. Saffron also contributes a touch of nobility to this perfume. Its spicy, enveloping notes match the resinous scents in a regal aura of majesty and sensual delicacy.
Nutmeg
From the deep south of Africa comes to us a distinctive spicy essence, a fragrant treasure made from the seeds of an aromatic plant. Sweet and warm, the scent of nutmeg makes its way to the sense of smell with a sinuous spicy hint.
Bergamot
The citrusy hint in the primary notes of Java Oud is thanks to bergamot, perpetually balancing the acidic and bitter notes of the fruit from which it is derived. The Ionian coast's quintessential citrus brings a burst of fruity and floral freshness.
Secondary notes
Flowers and wood blend together, striking a balance between the sweet accent typical of floral fragrances and the bold character of oud wood. A distinct tobacco note takes center stage in the heart of the fragrance.
Jasmine
Sensual, sweet, natural: the scent of jasmine is a harbinger of lust and prosperity and the bearer of auspicious good wishes. A floral fragrance with a strong olfactory impact that can flatter the senses and tickle the spirit.
Rose
Rose essence adds sweetness and nobility to the floral component of the heart of this perfume: delicate, flowery scents that seduce in their many facets and leave impressions of freshness, harmony, and purity.
Oud
The sought-after resinous substance that gives this fragrance its name comes directly from the barks of plants in Laos and Southeast Asia, with its extraordinary concentration of essential oils developing in response to the humidity of these areas – a fragrance with a strong, woody character.
Tobacco
Red tobacco grown on the island of Java is a type of non-bitter, soft-toned tobacco that thrives on contrasts between sweet and powdery and stands out in the heart of this fragrance above the complex accord between flowers and wood.
Tertiary notes
The base is characterized by soft woody notes, aromatic and resinous scents.
Vetiver
The origins of this plant take us to the mystical heart of Southeast Asia, between India and Sri Lanka, and the fragrance derived from it cannot help but be influenced by these roots, traceable in its herbaceous scents, humid notes, and woody undertones.
Guaiac wood
They call it the "wood of life," and it is one of the hardest and most resilient in nature: from guaiacum comes an essence often used as a fixative, with woody tones-frequently in accord with sandalwood-that underlie smoky, burnt-wood notes.
Sandalwood
One does not need to bother with Ayurvedic use or chakra energy to appreciate the age-old properties of sandalwood, a native of India: its purest essence is revealed by the sense of smell, with its scented, warm, resinous, and lingering woody scent.
Amber
Amber is another pervasive fixative element in perfumery, which helps determine this delicate fragrance's soft, aromatic base, accentuating its Oriental and powdery notes.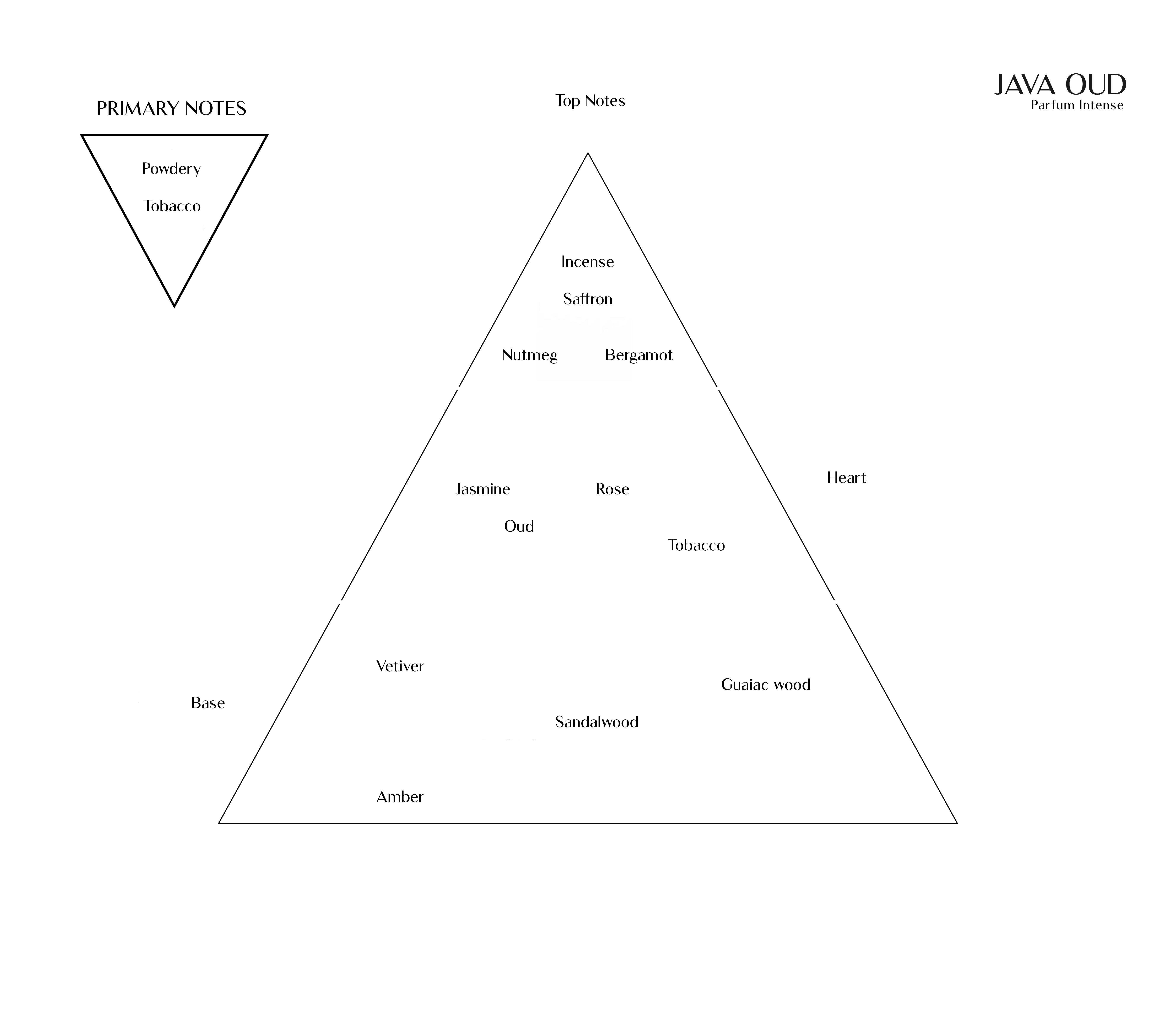 Alcohol Denat., Parfum, Aqua, Hydrolized Silk, Coumarin, Limonene, Benzyl Alcohol, Eugenol, Linalool, Isoeugenol, Cinnamal, Citral, Benzoate.