Description
The sun is high in the sky, peaking over the deserted beach shrouded in the humid heatwave of early summer. The sea pours its own eternal, roaring gurgle onto the shore, interspersing an unreal silence. The air is salty, and it blows and creeps past the rocks, over the scorching sand, up the mountainside, and mingles with the trees that have stood guard over this bay for centuries, forgotten by ships and men. The sea savors its smell, glues itself to the resins of the pines, and rolls among the pinecones before returning from whence it came. From the water emerges the figure of a woman, as beautiful and sensual as Venus at birth, lying on the shore and letting the sun's rays cover her naked body.
Sensual Wood is the breeze that blows in from the sea and goes to caress the pine trees snoozing along the coast; it is a tobacco and balsamic fragrance that plays on the unprecedented combination of the essences of black pepper and white pepper in what we have called "Nota Aria," as fresh and pungent as summer saltiness.
Sensual Wood reverberates the echo of waves crashing on the beach up to the beginning of the Mediterranean scrub, a promise of pleasures yet to be discovered: a lively, spicy opening over balsamic, sweet middle notes.
Olfactory notes
Primary notes: Black pepper, White pepper, Freesia
Secondary notes: Cinnamon, Opoponax, Tobacco, Vanilla
Tertiary notes: Tonka bean, Vetiver, Pine resin, Amber, Woods, Musk
Primary notes
The opening is lively and spicy.
Black pepper
Oriental enough to make you dream, intense enough to leave a mark: the olfactory notes of black pepper inherit from the grains of the most precious spice a strong and decisive character, immediately recognizable, that intoxicates with its seductive suggestions.
White pepper
A balsamic persistence combined with pungent aromaticity: this is how we could describe the many facets of the essence of white pepper, which leaves elusive spicy impressions on the nose, mitigated by an uncommon delicacy.
Freesia
If freesia were a woman, it would certainly look beautiful, but it would be loved above all for its character. From this African plant with multicolored flowers, specimens of which exist in every color comes an ethereal, delicate, floral, spring-like fragrance.
Secondary notes
The heart is balsamic-sweet enriched by warm scents of tobacco leaves, vanilla, and cinnamon.
Cinnamon
The queen of spices with an unmistakable fragrance, intricately linked to atmospheres of nostalgic sweetness and images of feminine warmth, Cinnamon expresses a longing for home and loving comfort, but it also conceals a more visceral and secretive side that yearns for freedom and adventure.
Opoponax
A sacred scent of ritual purification, opoponax fragrance is obtained from natural resins extracted from the bark of African plants known for their healing properties. Sweet and red myrrh exudes talcum and woody scents and deepens into a warm embrace.
Tobacco
The tobacco essence has masculine connotations and a strong personality; it is intense and persistent and reveals notes of leather. It is the perfect fragrance to marry with a sweet and spicy component and thus gives rise to complex and distinctive blends that are one of a kind.
Vanilla
Another distinctive element of this fragrance, vanilla, adds a sensual and sweet note that is pure seduction: impossible to resist its sophisticated, aphrodisiac scents and a sensation of freshness that awakens the senses.
Bottom notes
The base is resinous and musky with woody-coniferous undertones.
Tonka bean
Tonka bean, a plant of South American origin, has a fragrance reminiscent of vanilla, tobacco, and caramel: round, sweet notes that envelop and delight.
Vetiver
A tropical herb that creates a distinctive scent with woody and earthy notes, making it a popular component in many perfumes, ideally balanced in contrast between wet and dry.
Pine resin
The powerful and deep aroma of maritime pine, a typical Mediterranean scrub tree found on beaches and mountainous places, infuses an apparent olfactory monotony with new and fascinating experiences.
Amber
Woody and sweet, amber is characterized even by honeyed hints for one of the most classic fixatives, with perceptible vanilla and tobacco notes in the background.
Woods
The essence expressing the woody component of this fragrance is a combination of refined woody and coniferous nuances, dense with natural scents.
Musk
From the wilder forested hinterland come notes with a wetter, more animalistic accent: a resinous, musky base, counterbalancing the woody element.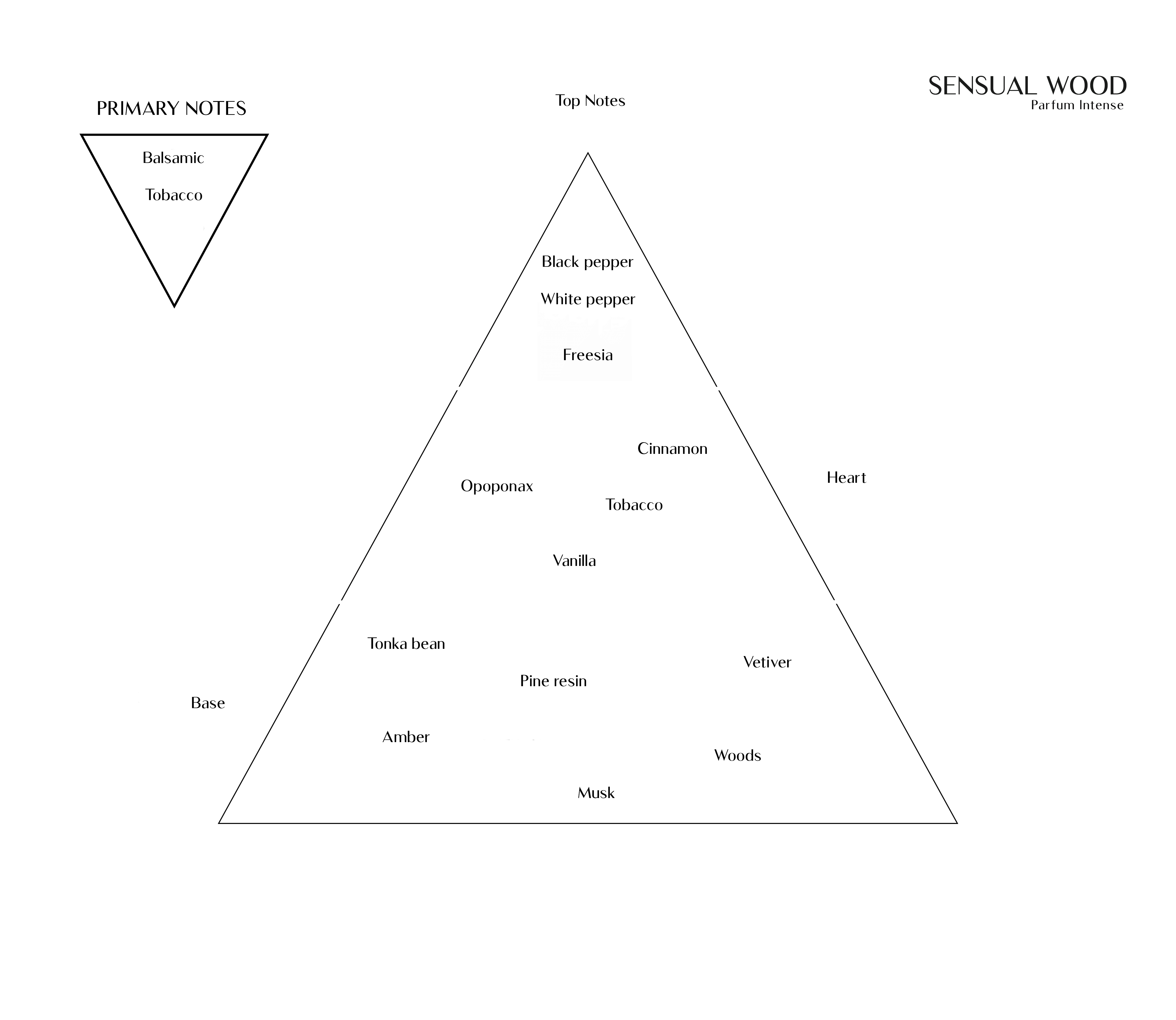 Alcohol Denat., Parfum, Aqua, Hydrolized Silk, Coumarin, Limonene, Benzyl Alcohol, Eugenol, Linalool, Isoeugenol.