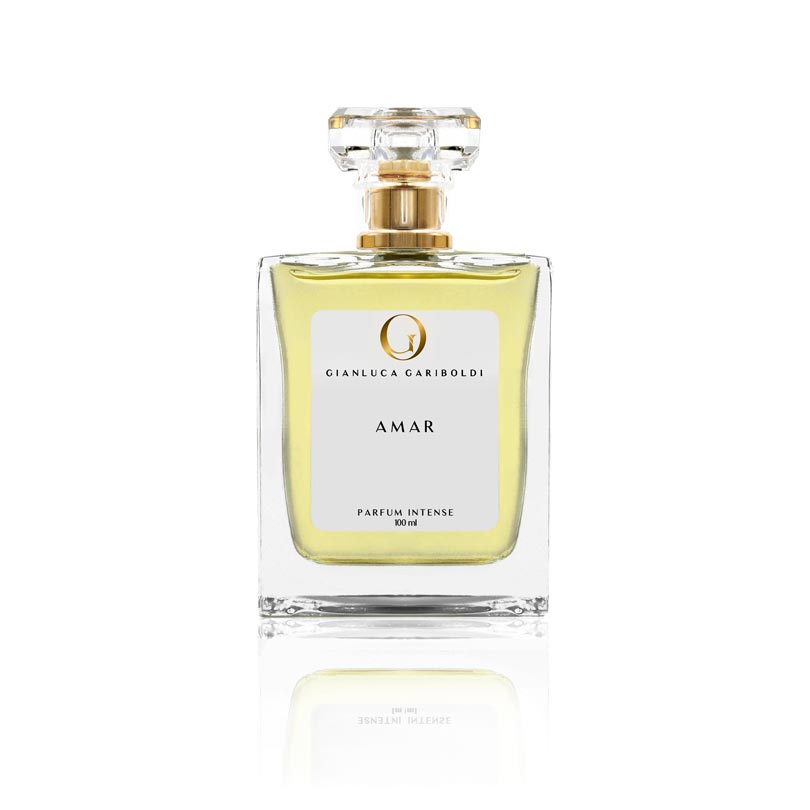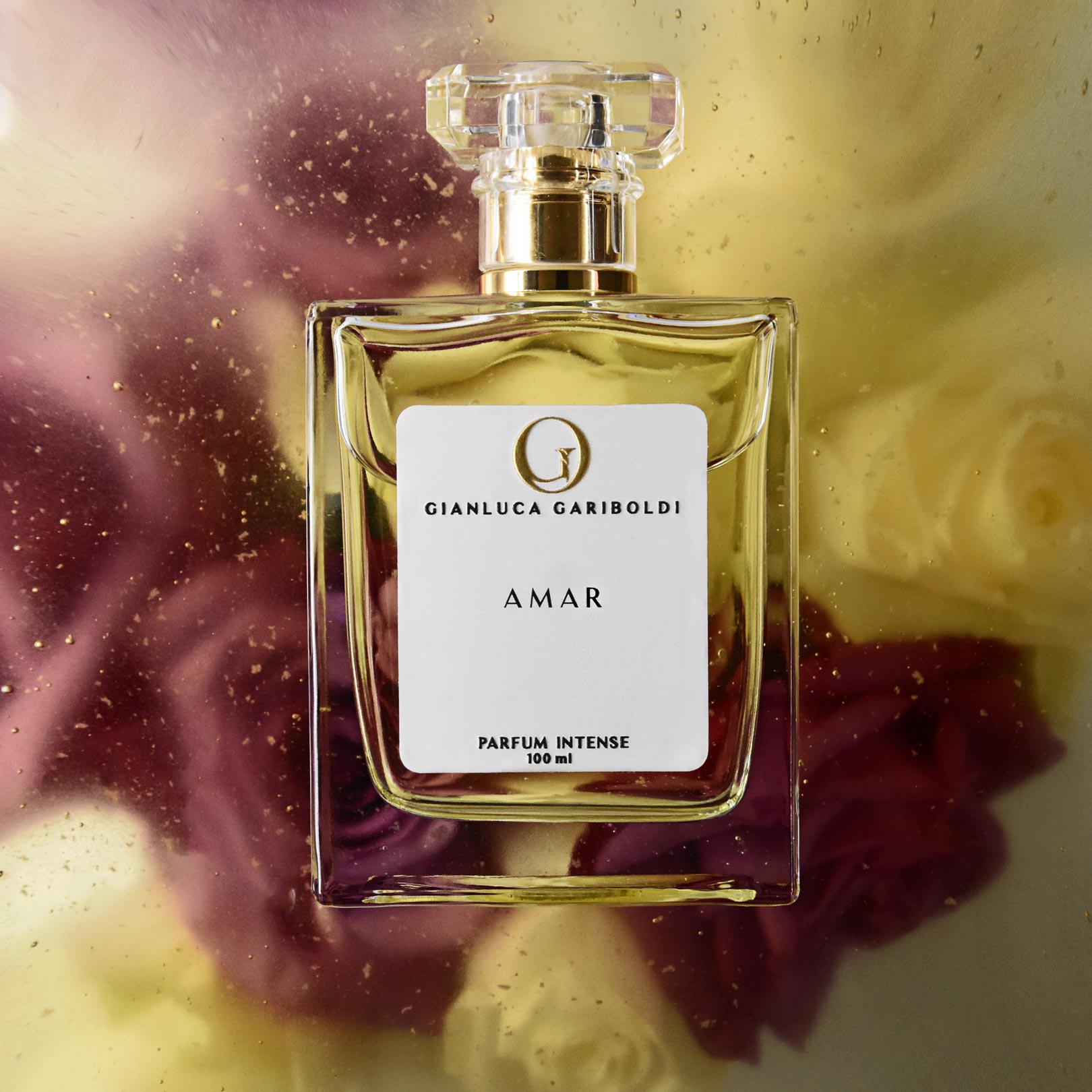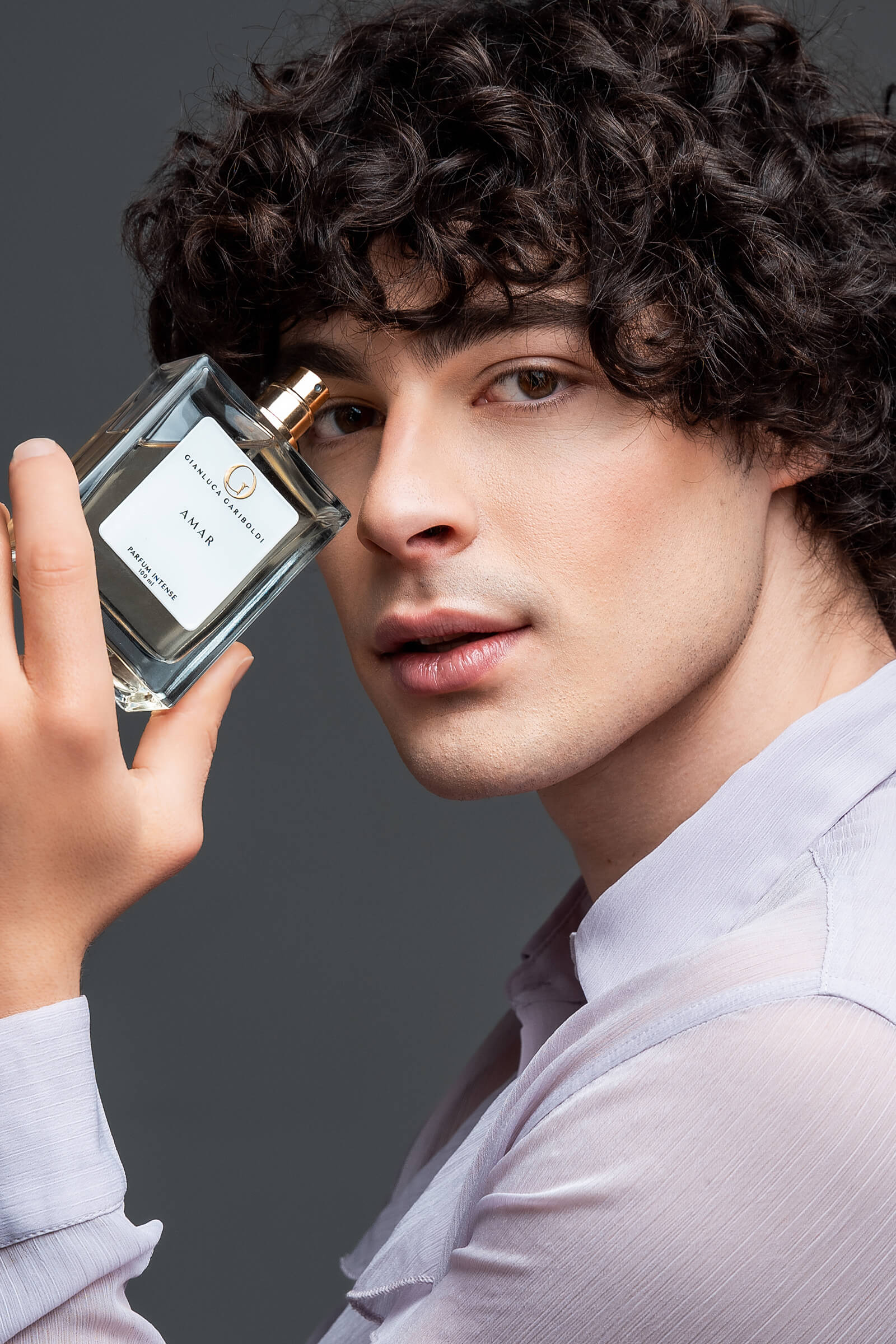 Woody amber fragrance, mysterious and seductive

Guaranteed safe & secure checkout

Description
Two people meet for the first time. They attract each other, they fear each other. They discover and hide, revealing themselves little by little. There's an understanding, the air is permeated with a subtle but constant tension on which the senses realign.
It's an invisible thread that connects two worlds previously inaccessible to each other, on which are balanced – perfectly and precariously at once – emotions, sensations and desires.
The allure of the unexplored beguiles the soul and stirs inner motions, crystallizing them in a perfect moment where the past no longer exists and the future has yet to begin.
Amar is a continuous juxtaposition between sweetness and aggression, between sensuality and warmth. It is undoubtedly our most complex and most mysterious perfume, capable of infusing different and indefinite olfactory impressions, to be discovered every time.
Amar means immortal, because what it sends back is an endless sensation, amplified to infinity.
Olfactory notes
Primary notes: Caramel, Whiskey, Tonka Bean, Hazelnut
Secondary notes: Rose, Jasmine, Violet
Tertiary notes: Amer, White Musk, Teakwood, Oakmoss
Primary Notes
Gourmand-type top notes with a sweet, warm, and enveloping character.
Caramel
An unusual fragrance in many ways, which strikes the sense of smell and seduces it with its intense sweet notes: the essence of caramel, fairy-like and aromatic, capable of awakening all the senses.
Whiskey
A persistent, distinctive, fragrant and sophisticated scent that evokes elegance and masculinity: the fragrance of whisky best expresses the most aggressive aspect of the human being.
Tonka Bean
Tonka Bean has South American origins and its smell is considered similar to the smell of hay in meadows after mowing, when it is left to dry in the sun: herbaceous hints and sweet notes.
Hazelnut
The hazelnut plant and its fruit add light, toasty notes to the olfactory bouquet, giving it an accentuated roundness and an immediate sensation of fresh, penetrating sweetness that lingers.
Secondary Notes
Warm and full-bodied heart of flowers with a lively, fruity-like aftertaste.
Rose
Roses have been cultivated for more than 3,000 years, and yet their scent is still the same as that breathed by the peoples of Asia Minor: flowery, fruity, intense and romantic, delicate and intriguing.
Jasmine
Jasmine has a sweet and suave scent, with notes of fruit and flowers, delicately talc-y: from the Middle East, a warm and sensual fragrance.
Violet
Violet is a plant that exudes fragrance throughout: its leaves bring a green fragrance with aquatic and metallic notes, its flowers an antiqued scent that smells of wood, earth and flowers.
Tertiary notes
Warm, woody, amber closure, intense base characterized by woody accords.
Amber
The fragrance of amber is persistent and intense on the skin. Defining it isn't easy, as it brings together different essences in a scent where notes of sea, seaweed and tobacco stand out.
White musk
A fragrance that has ancient origins and an animalistic nature, which it readily reveals in its wilder notes. But white musk is above all a sweet, soft and clean scent with precious amber highlights.
Teakwood
The essence of this Asian plant with its particularly valuable wood evokes the natural world and an exotic reality: warm and enveloping notes, deeply evocative, with a marked hint of old leather.
Oakmoss
Woody but also earthy, moist and mushroomy but also marine, with a clear reference to seaweed and bitter, leathery and even smoky notes: the scent of oakmoss is complex, warm and deep.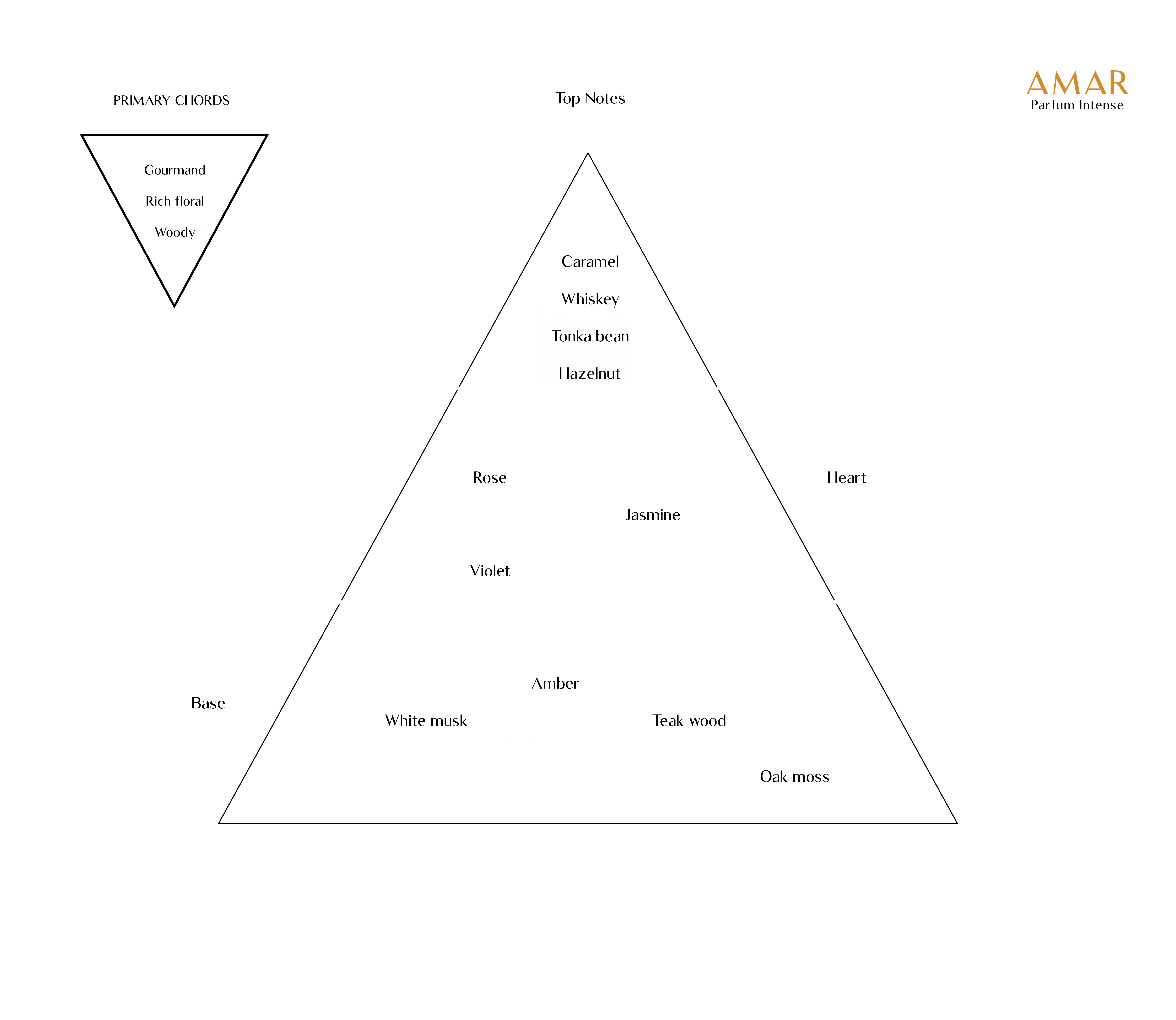 Due persone si incontrano per la prima volta. Si attraggono, si temono. Si scoprono e si nascondono, svelandosi a poco a poco. C'è intesa, l'aria è permeata da una tensione sottile ma costante su cui si riallineano i sensi.
È un filo invisibile che collega due mondi fino ad oggi inaccessibili l'uno all'altro, sul quale stanno in equilibrio – perfetto e precario insieme – emozioni, sensazioni e desideri.
Il fascino dell'inesplorato ammalia l'anima e smuove moti interiori, cristallizzandoli in un momento perfetto dove il passato non esiste più e il futuro non ancora.
Amar è una contrapposizione continua tra dolcezza e aggressività, tra sensualità e calore. È senza ombra di dubbio il nostro profumo più complesso e più misterioso, capace di infondere impressioni olfattive diverse e indefinite, da scoprire ogni volta.
Amar significa immortale, perché quella che rimanda è una sensazione senza fine, amplificata all'infinito.
Note olfattive
Note di testa: Caramello, Whisky, Fava Tonka, Nocciola
Note di cuore: Rosa, Gelsomino, Violetta
Note di fondo: Ambra, Muschio bianco, Legno di teak, Muschio di quercia
Note di testa
Caramello
Una fragranza per molti versi inedita, che colpisce l'olfatto e lo seduce con le sue intense note dolci: è l'essenza del caramello, fiabesca e aromatica, in grado di risvegliare tutti i sensi.
Whisky
Un profumo persistente, di carattere, fragrante e sofisticato, che rimanda a un'eleganza declinata al maschile: la fragranza del whisky esprime al meglio l'aspetto più aggressivo dell'essere umano.
Fava Tonka
La Fava Tonka ha origini sudamericane e il suo odore è considerato simile a quello del fieno dei prati dopo la falciatura, quando viene lasciato seccare al sole: sentori erbacei e note dolci.
Nocciola
La pianta del nocciolo e i suoi frutti aggiungono note leggere e tostate al bouquet olfattivo, conferendogli un'accentuata rotondità e un'immediata sensazione di dolcezza fresca e penetrante, che rimane impressa.
Note di cuore
Rosa
La rosa si coltiva da più di 3000 anni eppure il suo profumo è ancora oggi quello che respiravano i popoli dell'Asia Minore: fiorito, fruttato, intenso e romantico, delicato e intrigante.
Gelsomino
Il gelsomino ha un profumo dolce e soave, con note di frutta e di fiori, delicatamente talcato: dal Medio Oriente, una fragranza calda e sensuale.
Violetta
La violetta è una pianta che emana profumo in ogni sua parte: le sue foglie rimandano una fragranza verde con note acquatiche e metalliche, i suoi fiori un profumo anticato che sa di legno, terra e fiori.
Note di fondo
Ambra
La fragranza dell'ambra è persistente e intensa sulla pelle. Definirla non è semplice, poiché riunisce essenze diverse in un profumo ove spiccano note di mare, di alghe e di tabacco.
Muschio bianco
Una fragranza che ha origini antiche e una natura animalesca, che rivela prontamente nelle sue note più selvagge. Ma il muschio bianco è soprattutto un profumo dolce, morbido e pulito, con preziosi riflessi ambrati.
Legno di teak
L'essenza di questa pianta asiatica dal legno particolarmente pregiato rimanda al mondo naturale e a una realtà esotica: note calde e avvolgenti, profondamente evocative, con un marcato sentore di cuoio vecchio.
Muschio di quercia
Legnoso ma anche terroso, umido e fungino ma anche marino, con un chiaro riferimento alle alghe e note amare, di cuoio e persino affumicate: il profumo del muschio di quercia è complesso, caldo e profondo.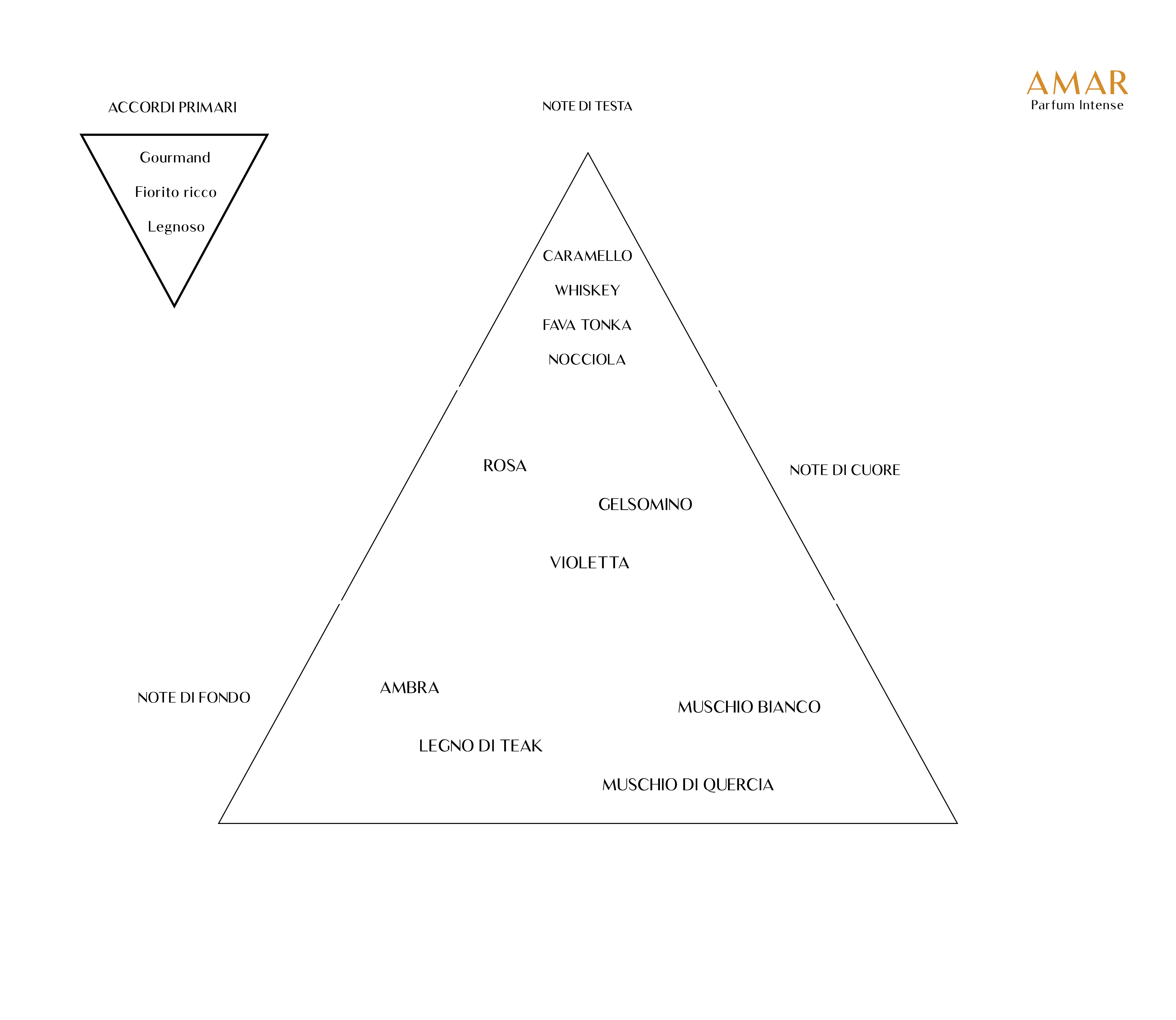 Vaporisateur Natural Spray
Alcohol Denat., Parfum, Aqua, Hydrolized Silk, D-Limonene, Hexyl Cinnamon, Benzyl Salicylate, Linalool, Coumarin, Citronellol, Alpha-Isomethyl Ionen, Citral